Remember
this post
? I realize you have all been on the edge of your seat for the sequel so here ya go!!
Officially

Unofficial

Top 10 Things I Hate to Hate
10. Laundry - such a necessity in life, but really I do not like doing it. especially switching loads.
9. My Glasses - worn them for my entire life (since I was 3), can't live w/o them, but really wish I didn't need them...
8. Wearing shoes - i love bare feet... dangerous at times!
7. Studying - clearing a necessity in my life, but obvious why I hate it.
6. Fans - not a fan of things blowing on me no matter how hot I am. I know this is strange.
5. Water in my face - see this may not sound like a big deal, but that means I hate washing my face, my hair etc - but don't worry I do all of these things regularly, I just do them quickly!
4. Baths - I despise baths/bathtubs/the idea of sitting in my own dirt - no matter how relaxing they may appear, I can not get over dirt thing....
3. Pizza - do not like it. not at all. but it makes it difficult when everyone around you wants to order out and you are left with nothing to eat... ah well, at least I'm saved from the calories I guess.
2. Driving - really, one of my least favorite things to do - I'm a good driver, I would just rather not do it.
1. Cuddling - I honestly do not like it... not at all! I may not be entirely female?
------------
and for those who LOVE a contest these fabulous ladies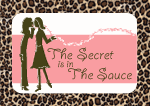 are offering up the best one I have seen in days! Go
here
to check it out & enter - ends tomorrow!