This is a Sponsored post written by me on behalf of Express. All opinions are 100% mine.
I am SO OVER winter.
REALLY REALLY over it.
In order to tame my winter blues and my anticipation of summer - I checked out 
express & their Spring 2011 women's swimwear collection.
Are these not freaking adorable???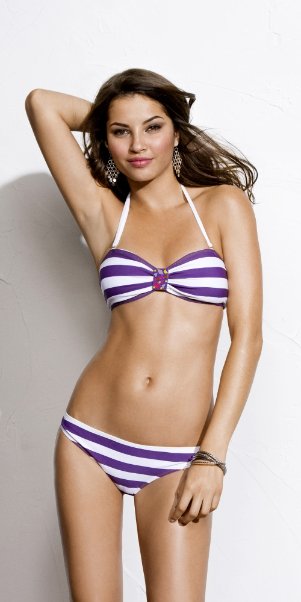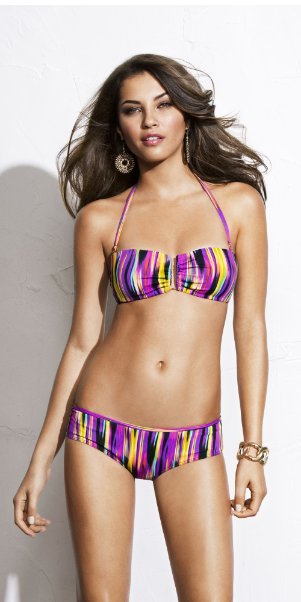 ((is the body of this model included in the purchase?))
They are screaming "wear me at your mom's pool [so you don't blind anyone with your crazy belly jiggle] until you get back in shape" followed by "wear me at the beach!" And at Disney (yay!).
There a ton of really cute swim suits on the express site - it is hard to pick just one! I am a bit of a swim suit collector... I will definitely be picking up a few from Express this year since I will have a LOT more time to spend at the pool than I ever have before. Now if only I could get my butt in gear and in shape....
I love a lot of things about Express (editor pants!), but their swim suits are awesome because:
the tops have removable padding, since I need all the help I can get in that department.
the designer details (flirty ruffles! glam beaded embellishments! polished metal hardware!) add that perfect touch of summer sexy
Not to mention bright solids, on-trend graphic prints,  essential reversible style (more bang for your buck!), nautical inspired striped and sleek metallic styles so I have no choice but to buy more than one!
If you sign up for the Express e-mail, you will be entered for a chance to win one of ten $200 Express GiftCards!! Which means you can get your sexy bathing suit and other warm weather essentials including sandals, tote bags, sunglasses and hats.
The Express line gives the basic beach look an upgrade with bold hues and body-loving shapes - making it possible for ALL of us (even the ones who don't look like models!) a sexy look for summer!
I get their e-mails all the time and they are packed full of great deals that I regularly take advantage of - so GO! Sign up for the Express e-mail and get yourself entered to win a giftcard!! Sweepstakes ends 4.21 at 11:59pm EST [sweepstakes rules]