This is a Sponsored post written by me on behalf of White Cloud. All opinions are 100% mine.
We have recently contracted a warm-weather cold in our house.  By we, I mean the tiny people who live here.  And the biggest little person is VERY particular when it comes to tissues.  As in, if you give her more than ONE at a time, look out.  There WILL be a meltdown. 
(yes, I am serious)
I digress.... we have tried lots of different tissue brands and I just heard about White Cloud Facial Tissues - which I wish i would have known about before I just stocked up on tissues. 
White Cloud Facial Tissues teamed up with Children's Miracle Network (CMN) Hospitals in January and asked the kids recieving treatment to design new tissue box designs. (how cool, right?!) 
White Cloud Facebook Page had a contest and their fans voted on the top 10 designs and selected 3 winners.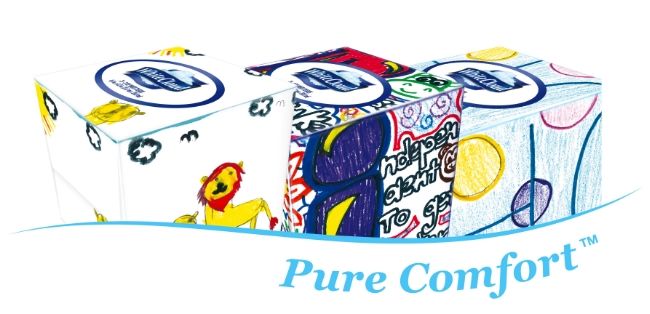 (I think they are all 3 really great!)
(you can follow White Cloud all over social media: White Cloud Twitter Page & White Cloud Pinterest Page)
The winning designs have been printed and are for sale for a limited time (beginning May 24).
The winner's hospitals will also be presented with $15,000 donation on behalf of White Cloud - which I think is really great!
White Cloud is carried exclusively at Walmart in select markets. You can check out the White Cloud Store Locator to see if this product is carried in your area.  They are available in my area, and I will be making a trip to grab a box or three (afterall, my two little princesses have needed to use the services of our local CMN hospital)
Making this purchase even better, is the $0.75 off coupon that will appear in July's All You magazine. (all my coupon people out there already know how awesome this magazine is, and those who aren't, this is a magazine that always has really awesome coupons!)
Grab a specialy designed box of White Cloud Facial Tissue, support the CMN and don't spread those warm-weather colds around your house!